New Refugee Work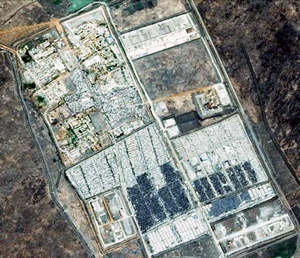 On January 27, 2017 the UN reported skirmishes between government and opposition forces in the area of Malakal, S. Sudan. This city of about 45,000 near the border with Sudan was gutted in fighting as it changed hands 13 times since 2013. The city essentially emptied into the Malakal UN camp for Internally Displaced Persons (IDPs), containing about 45,000 refugees.1 They live in tarp-and-pole homes. Protection is uncertain; for as someone put it, "No one wants to die for the UN".
On November 17, 2016, The Maclellan Foundation (MFI) awarded a grant of $10,000 to serve refugees at Malakal. Our ministry partners have already identified trusted men living in this camp to lead the outreach. We're grateful to MFI for funding to provide scriptures, a stipend for pastors to lead scripture studies, and a structure for this study and prayer. Funding also includes a workshop for 100 pastors on how to teach scripture studies. I hope to visit Malakal in April. Please pray for God to give new life to thousands in this new outreach.
As most reading this know, RMNI has been blessed to be a catalyst in ministry to IDPs in Protection of Civilian (POC) camp 1 at the national capital of Juba, S. Sudan. We interface between coworkers in S. Sudan and Lookout Mountain Presbyterian Church (LMPC), which has supplied approximately $200,000 to provide scriptures and financial assistance to six chaplains living there. This includes funding for Hope Secondary School within this camp, including the school structure, and the salaries of 12 teachers. Last summer 92 students passed the national secondary school exam, necessary for admittance into university. This 84% pass rate surpasses schools outside the camp with far better resources. Hope has only chalkboards—no texts for the students, as these are not available. The teachers give thanks to God. Due to warfare in Juba in July 2016, which resulted in casualties within POC 1, seventy-four will take the qualifying exams next summer.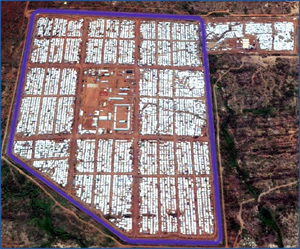 Last September I wrote that we hoped to reach POC 3 (inside blue border), which has about 40,000 residents, located next to POC 1, (which has about 8,000 residents) where the school is. LMPC is now funding ministry to POC 3, in the same form of a structure for study and prayer, and provision of scriptures and chaplains! Trusted ministers within POC 3 will lead.
Before beginning work in these two new camps, we are networking with an international ministry to provide rapid discipleship training.2 Such movements seem to grow best in the soil of affliction. They will train workers to lead obedience-based studies. Prayer intercession will be the basis for this work. These studies will, by God's grace, lead to second and third generation fellowships. Training is planned for February 2017. Multiplication must be in the DNA of the initial study groups. Please pray that the Great News will prosper.
Logistics are particularly difficult. Scriptures in appropriate languages must be carried from Nairobi or Kampala, and audio scripture players imported as well. Ground travel can be dangerous. Those destined for Malakal must go by air. What the apostle Paul wrote applies: "for a wide door for effective work has opened to [us], and there are many adversaries." (1 Cor. 16:9, ESV).
Last November LMPC brought our S. Sudan coordinator for these ministries to Chattanooga. He reported on the work in Juba, both at the UN camp and through what is a new theological college. During ten days with us, he spoke in six churches, including four times at LMPC. RMNI provided $1,800 to better outfit him and enhance his stay. Last July 8-12 he and his family hid under their beds while tanks, artillery, troops and gunships fired around them against opposition forces.3 Many were impressed by his spirit of humility and thankfulness for God's care.


---
1 See "Where Will We Run This Time?" about this camp at http://www.washingtonpost.com/sf/world/2016/08/06/south-sudanese-civilians-fear-the-u-n-cant-protect-them-from-a-massacre/?tid=a_inl
2 For more information on Disciple Making Movements, see https://www.davidlwatson.org/2015/02/26/disciple-making-movement-dmm-essentials-find-the-person-of-peace/
3 See this followup account, dated Jan. 16, 2017 http://www.un.org/apps/news/story.asp?NewsID=55975#.WIotrPkrJaQ