A prior consideration to principles of working with partners, outlined in the last two Reports, is How do you find those partners? How do you locate wise, godly, trustworthy, diligent and compatible ministry partners? It isn't easy within the USA. Finding them overseas is "far and away" more difficult. References are essential, but finding an objective reference may be impossible. We've received possibly hundreds of invitations to partner with ministries we've never heard of, understandable due to size and lack of technology, but we could not vet them, even if the invitation was attractive.
We've had the privilege of receiving leads to likely partners through the Maclellan Foundation. They have area strategy directors and field researchers around the globe, who search out the best ministries in a country. We've also found great partners through friends who have worked on the field with a particular organization. We've had some success meeting impressive leaders while traveling, then letting experience guide us. We partnered with one dynamic East African leader and had a successful team trip. When we arrived on a followup trip, preparations had disintegrated, ministry opportunities were limited, and that was our last visit. Another leader I met has surpassed expectations.
When we find excellent partners, as we're able, we invest donations in them, while funding work in inner city Chattanooga, team ministry in South Sudan, and helping mobilize the African American church for global ministry. Here are recent investments.
INDIA
Church planters
In 2008 our team had the privilege of working together with church planters in northern India. I've mentioned before that I've never seen more dedicated Christians. Some classes began at 6 am, and took exams as late as 10 pm. Here is a rendering of a photo taken at night of those church planters. Covid relief was not needed in this part of India, so we contributed $2,000 toward the work of this network of church planters. They are prayerful , data-informed, and unafraid of persecution.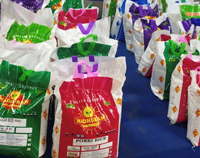 Emergency food relief
We've partnered with another ministry in central and southern India. They arranged strings of seminars in various cities for RMNI teams on at least five trips. Our teams sometimes traveled overnight by train to teach the next morning. Recently Covid-19 caused many pastors to lose their jobs.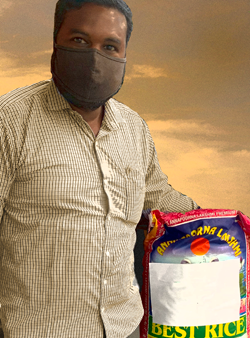 The ministry leader purchased food, and arranged for distributions in both May and June of this year. RMNI donors provided $3,500, which helped 90 pastors for a month, plus others for a week. The leader wrote:
Most of them shared that they were struggling to buy groceries and rice, due to total lockdown for many weeks and that's the time we distributed to needy Pastors. Difficult thing is to gather Pastors in one place, that's restricted, and we could manage maximum 20 in each location, and done within 15 minutes, and asked them to leave the room.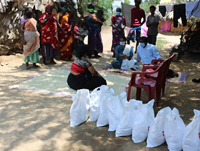 We also provided $1,000 in food relief through our amazing ministry partner in Uganda, Rashid Luswa, who assisted the poor in their recent lockdown. He set up 7 trips to Uganda, and staging into S. Sudan.

South Sudan
Graduate Studies
We paid the balance of $2,500 for Gino (standing, right) to complete his Masters in Education degree at Africa Reformation Theological Seminary. He heads the new Equatoria Presbytery of the Presbyterian Church of S. Sudan. We also contributed $1,000 toward the cost of David Acellam's PhD program at the University of Pretoria, S. Africa. He is another of our principal ministry partners in Juba. Lookout Mountain Presbyterian covered David's Master of Divinity costs.
Grace Theological College
RMNI recently contributed $10,000 to purchase 2 motorized rickshaws, bringing their fleet to 4 rickshaws and 2 cargo bikes. These vehicles provide a living to drivers and income to help sustain the school. They plan to purchase a seventh rickshaw with the balance of the $10,000, plus other funds.
Agape Mission
Breath of Life Ministries, headed by Leara Lee, provided $1,000 through RMNI for Bibles in 3 languages to churches around Juba.
RMNI provided $9,000 to Agape Mission. They used $3,600 to purchase one rickshaw, using the $5,400 balance to provide agricultural implements for 100 households of S. Sudanese at Labijo, S. Sudan. They just returned from refugee camps in Uganda and Kenya. Michael Ojok (seated in one of the rickshaws awaiting assembly), through great stewardship, purchased the second rickshaw from profits earned by 3 bikes already in possession, bringing their fleet to five.
Tools include rakes, machetes, watering cans, seeds (corn, okra, cabbage, egg plant) and heads of hoes, to be fitted with very long handles.
Jim Sutherland