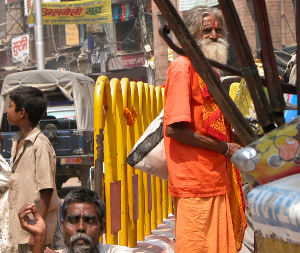 In trips to Uganda, Kenya, Sudan, and south and central India, I've not seen such intensive training of new believers and church leaders as we saw in Uttar Pradesh, northeast India. Due to possible persecution, we must leave anonymous those with whom we served. An historic spiritual harvest is being gathered in this huge state of 183 million—well over half the US population. The experience of the mission where we served was that in fifty years of ministry just five baptisms were recorded. In roughly the last five years, 5000 baptisms have been recorded. Over 1114 house churches have been planted since 2003, including 20,000 new believers! The vision of our host mission is to plant 10,000 more churches and to see 200,000 new believers by 2012. Talking with a church planter in the heart of Hinduism—Varanasi (also known as Benares)—he said that all he lacked was more church planters, that harvest time is right now. How do you prepare leaders to take over these churches and ground new believers? On average, 52% of Indian adults are illiterate, compounding the problem (World Christian Database), while in Uttar Pradesh the figures may be closer to 40% of males and 25% of females being functionally literate.
Five training programs were in place when we arrived. Church planters are given three-to-five days of training per month, new believers are given three days of training, while house church leaders are instructed over three weeks. A more intensive School of Biblical Teaching lasts for three months. In addition, the ministry has 100 schools for Dalit children—most of them meeting under trees. The Hindu teachers employed are brought in for training each month. Children are taught the 10 Commandments, the Lord's Prayer and gospel songs, and quite a few of the teachers and parents have accepted Christ as they have taught the Bible to the children. Having noticed a link to Third Millennium (www.thirdmill.org) on our website Teaching section, our host asked me to bring over four seminary-level video courses and to facilitate them for his senior leaders. We covered "Primeval History: Genesis 1-11," and "The Story of Abraham," both taught by Dr. Richard Pratt, of Reformed Theological Seminary, Orlando. We usually met between 5:30 and 8 PM. The courses were so well received that a new "Ministry Training Network" has now been established, using 3rd Mill materials as a foundation, and an Indian church plant team leader as the director. Perhaps a Doctor of Ministry degree will eventually be offered. Dr. Pratt plans a visit in the near future.
What I hadn't seen in East Africa and Southern Sudan, or in working with another indigenous Indian ministry in south and central India, was either the intensity of training or the accountability for the material presented. Exams were given—at 5 AM. Another mission reaching Uttar Pradesh is training an estimated 7-8,000 leaders, and utilizes the campus where we stayed for 3-4 days a month. Around 9 PM one evening about 100 of them were sitting in circles grading 1200 exams. Women were also being taught, and could progress in a series of leadership levels. Contact us if you'd like to become involved in this harvest field.
Jim Sutherland