The Widows of South Sudan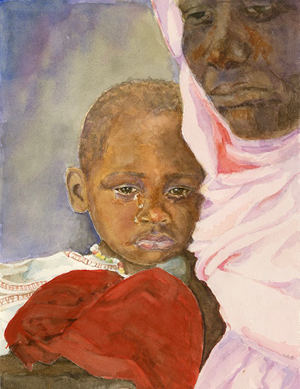 South Sudan is the world's newest country, having gained its independence in 2011. Sadly, in that short time it has become a study of a nation's collapse.
Though South Sudan is oil-rich, pervasive corruption and nine years of tribal warfare have left it the world's poorest country. Heavy inflation has critically reduced food production, leaving 7 million people on the edge of starvation. Almost 60% of the population are refugees of one category or another.
I will turn our attention to the widows of South Sudan. We know God's eye is on the fatherless, so his compassion touches the widows who hold the fatherless. They are the ones left with babes in arms, with makeshift "homes" in the vast UN camps, with distress for their own safety, and grief for the losses which their children suffer.
The following analysis will reveal how widows suffer the most and in the worst ways.
By

Tad de Bordenave

Tad de Bordenave
Calls from the Inner City
Here are friends from an inner-city "village," encouraging Christians to come alongside them. In my 27 years of inner city work, I've seen perhaps six churches in the Chattanooga area whose members intentionally go into the inner city to regularly hangout with residents. Fear, indifference, and perhaps not wanting to identify with materially poorer people are probably the main reasons. "A poor man is shunned by all his relatives-- how much more do his friends avoid him!" (Pro 19:7 NIV) Please listen.
By

Jim Sutherland

Jim Sutherland
Church Global Missions Resources
Here are some useful resources for your local church to help educate and motivate folks to go global.
By

Jim Sutherland

Jim Sutherland