Vision: Through the Lord Jesus Christ reconciling the races, especially the least-reached globally, to God and each other.
Mission: Equipping and mobilizing ethnic churches, especially the African American and Latino, to reach the least-reached in the city and globally.
Reconciliation Ministries Network exists
to assist the African American and other ethnic churches in global ministry by resourcing missions mobilizers and by ministry trips
to assist under-served national churches in teaching, evangelism, medical care and special projects
to deliver people from financial bondage into giving generously to under-served global mission needs to promote ethnic reconciliation
to evangelize and disciple inner city residents (particularly Chattanooga's College Hill Courts--the "Westside" housing project).
We serve the church by stimulating and facilitating her mission to evangelize and serve the least-reached in the city and globally. We ally with Christian churches and ministries to achieve these objectives. Founded in 1999, Reconciliation Ministries Network is a Bible-believing Christian, board-governed, 501 c-3 ministry.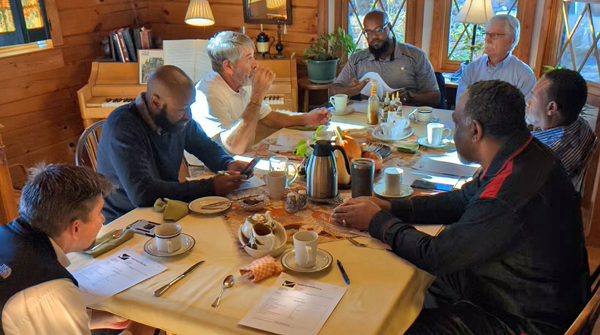 RMNI Board Meeting