Cominad
Cooperative Mission Network of the African Dispersion
"The mission of COMINAD is to mobilize Christian descendants of Africa to reach the world, especially the unreached with the Gospel of Jesus Christ."
Goals of COMINAD
Enhance understanding of the great commission of Jesus Christ
Work cooperatively with the members of COMINAD to develop strategy for reaching the unsaved, especially the unreached, around the world.
Work cooperatively with members of COMINAD to develop resources for reaching the unsaved, especially the unreached, around the world.
Work cooperatively with members of COMINAD to direct resources in order to carry out the task of reaching the unsaved, especially the unreached, around the world with the Gospel of Jesus Christ.
Who can join COMINAD?
Those who agree with the Statement of Faith of COMINAD.
Those who are committed to working toward the mobilization of Christian descendants of Africa to World Missions.
Those who are committed to reaching the unreached.
Those who will work toward sustaining COMINAD as a vehicle so that it can accomplish its goals
For more information, please contact the National Coordinator, Brian Johnson. Donations can also be sent to the address below.
Brian Johnson
608 Warwick Drive
McDonough, GA 30253 (as of March 2011)
By

Jim Sutherland

Jim Sutherland
African American Missions Strategy Seminar 2007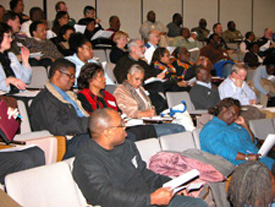 The 2007 African American Missions Strategy Seminar at Columbia International University (CIU) on January 19-20 was nearly a Homecoming to 130 African Americans and Euro Americans interested in mobilizing the African American Church for global missions. At least twenty-two predominately White missions organizations were represented, perhaps the widest such representation yet at this kind of event, and ten of these had African American representatives. At least two of the 22 are dedicated to African American mobilization. Another eight predominately African American missions organizations and movements were present. At long last we are moving together on a multi-ethnic front. Missions directors and mobilizers, members of church missions committees, pastors, missionaries, seminary students and various faculty members came to learn and network. At least a dozen Black churches were represented.
The warmth of fellowship flowed in every direction, from the registration desk to the cafeteria to the workshops and throughout the plenary sessions. The registration line became a receiving line. Clusters of friends popped up in lobbies and the dining hall, at workshops and on the sidewalks.
The centerpiece of this seminar was the African American Missions Manifesto. For almost twelve weeks a drafting committee proposed, edited, debated, and then proffered fresh topics. Chief architect was Minister Vaughn Walston, together with Rev. Gary Ham, Rev. Glenn Mason, and Dr. Jim Sutherland. Bill Porter, of Columbia International University, ably facilitated the discussions. The committee honed the document during the 24-hour gathering and after many deliberations presented the Missions Manifesto at the final plenary session. The Manifesto was approved by acclamation and then signed by all who so wished—seemingly everyone. Two delegates leaped for the signup sheet for "first signature" notoriety.
During the first two plenary sessions Rev. Gary Ham and Rev. Glenn Mason passionately presented the need for missions. Rev. Ham shared with us that "It will take wisdom and discernment on the part of leadership to rightly call out and equip the greatest generation of missionary service," our newest missionaries. Rev. Mason challenged us to "Think like God," when it comes to missions involvement and to understand God's purpose of the African American people group. Ten different breakout sessions spoke to a range of missions concerns. Some of these were "Strongholds and the Lack of Involvement Among African Americans in Missions," by Rev. David Cornelius (International Mission Board of the Southern Baptist Church); "How the Bible Emphasizes Missions," by Dr. Joseph Jeter (Have Christ Will Travel Ministries) and "An Overview of the Final Frontiers of Missions," by Rev. Melvin Jackson (Searchlight Global Ministries). The RMNi Director taught on "Best Practices for Recruiting African American Missionaries" to about 60 persons.
One bright outcome of the Seminar is that the Manifesto may become a rallying point for engaging African Americans in global missions. We anticipate a dedicated website to post the document, with the capability to digitally endorse it. Visitors will also be able to request missions updates. We hope to include suggestions for implementing the Manifesto.
If you weren't able to attend, CIU intends to host a followup seminar in early 2008. Drs. Joe and Peggy Rayman of Africa on Fire stirred the embers to bring this consultation together. We hope to see you in 2008, so that the many brushfires representing the work of missions large and small will join into a fire-front to spread word of Christ globally from the African American community.
By

Jim Sutherland

Jim Sutherland
African Am. Missions Websites
African-American global missions is certainly no prairie fire, but there are brush fires all over the country, which, with the wind of the Spirit, will flare and ignite to result in the considerable human and financial resources of the African American church being utilized for global mission. These sites provide resources toward that end.
- Jim Sutherland
Mission Frontiers devoted their April 2000 issue to "The African American & Missions." The issue is, thankfully, online. It's worth a visit.
SIM has for years had staff specifically designated for African American recruitment.
Urbana has perhaps the most comprehensive page of links relating to African American missions
Wycliffe Bible Translators has the only section of a major missions–sending organization (of which I'm aware) devoted entirely to African Americans. You'll find information on African American missions and some African American missionaries serving with Wycliffe.
Know the Truth International Ministries specializes in short-term missions trips to eastern Africa, and to the Caribbean.
Blackchurchmissions.org has some unique Black history exhibits and missions information, with links. This is the work of Joel Freeman, who wrote Return to Glory.
Ethnic Harvest has an out-of-date page, but still many valuable Gospel Resources for African Americans.
Arnold Polk, an African American, has developed the interlocking block machine, which produces superior building blocks with far less time and money. Blocks can be used in as regular building blocks for clinics, homes, churches and water catchment systems. For more information, visit Polk Building Ministries.
By

Walt Robertson

Walt Robertson
African American Missions Networking
God seems to be lighting brushfires across the African American church landscape. Courageous African Americans are fanning the flames. Churches need to let go of a "come" mentality, and equip members to serve outside their walls, where it isn't so safe--but where the harvest is.
Byron Johnson's website Vision 9:38 is dedicated to helping specific African American missionaries get to the field. Perhaps you might assist.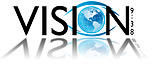 Some African American churches that have caught the missions vision are listed here.
Interested in helping African American missionaries enter their chosen field? Check here
Check the COMINAD (Cooperative Mission Network of the African Dispersion) Facebook page COMINAD is an important network for African American missions mobilizers. As of 3/7/2011, Director Brian Johnson's contact information is: 608 Warwick Drive, McDonough, GA 30253, (313) 671-4994. Call Brian for information about upcoming missions conferences around the USA.
By

Jim Sutherland

Jim Sutherland
Strong African American Missions Churches
By God's grace, Christian cross-cultural missions is a high priority in some African American churches. Here is a preliminary list of some of them. At the bottom there is a map to help you locate one near you. Let us know through the Contact Page of any additions we can add.
North-East (MD, NY, PA)
Bethel Gospel Assembly 2-26 E. 120th Street, New York, NY 10035, (212) 860-1510, Bishop Carlton T. Brow
Christian Stronghold Baptist Church 4655 Lancaster Ave., Philadelphia, PA 19131-4632, (215) 877-1530, Dr. Willie Richardson, Pastor. This church has an annual missions conference the 3rd weekend in November and encourages other churches to visit them to gain ideas. Contact Sister Marva Washington for details.
Montco Bible Fellowship, 160 East Main Street, Lansdale, PA 19446, (215) 855-0899, Pastor Tony Hart, Senior Pastor. Pastor Hart is the son of Dr. B. Sam Hart, of the Grand Old Gospel Hour.
Central-East (TN, NC, VA)
The Park Church 6029 Beatties Ford Road, Charlotte NC 28216, (704) 392-1681, The Rev. Dr. Claude R. Alexander, Jr. Contact person: Dr. Cassandra Jones
Dale City Christian Church 14022 Lindendale Road, Dale City, VA 22193, (703) 590-3716, Pastor Patrick Thomas
South-East (GA)
Berean Bible Baptist Church 3545 Butner Road, S.W., Atlanta, GA 30331, (404) 346-7149, Pastor Roger Skepple
New Life Church 3592 Flat Shoals Rd., Decatur, GA 30034, (770) 322-6262, Pastor Marlin D. Harris
Mid-West (MO, OH)
Grace Baptist Church 3101 NE Vivion Rd., Kansas City, MO 64119 - Pastor Jerry Cain
The Omega Baptist Church 1821 Emerson Avenue, Dayton, OH 45406, (937) 222-3447, The Rev. Dr. Daryl Ward. Contact person: The Rev. Monika G. Intsiful.
West (CA)
Zoe Christian Fellowship of Whittier 10252 Mills Ave. Whittier, CA 90604 (562) 906-5000, Dr. Joshua Smith
By

Walt Robertson

Walt Robertson
African-American Missionary Candidates
We're asking the Lord of the Harvest to send out 5,000 African American missionaries into today's global harvest fields. Here are one or more current candidates that are worthy of your consideration. Please contact them directly for more information about their ministries. They are willing to visit churches as time allows.
Vision 9:38 is headed by Byron Johnson and is dedicated to helping African American missionaries find financial support. We encourage missionary candidates to contact him.
If you are an African American missionary raising support to go to a mission field for at least two years, please contact us to post a link to your information.
By

Jim Sutherland

Jim Sutherland